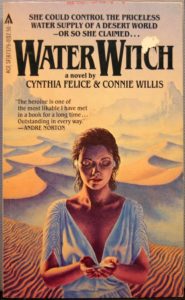 What the hell is Water Witch? You might be thinking something like that. It is a 1970s sci fi pocket novel, written by two female authors:
https://en.wikipedia.org/wiki/Water_Witch_(novel)
You may remember that last year we covered a similar book by another female sci-fi author Andre Norton from the same period. Ooops I meant (time) period. This book revolves around a female main character, who is a con -artist who pretends to be able to locate water using her psychic abilities. Her deceased father comes along for the adventure, and takes on a funky new life form. He serves as her advisor, as she plots to overthrow Red City. Red City is in the grips of some Asshole Lizard Lord tycoon type. This plot is a big mess, but it is fun at the same time. It is neat that the plot is dystopian science fiction , like a Lions Gate film, but with much more fantasy. It was way ahead of its time.
It turns out the Tycoon asshole has been secretly hoarding all the water from the residents of Red City. The Water Witch lady stumbles into deep state complicity in Tycoon's monopoly over everything. Eventually, Red City goes from being a desert wasteland, to being totally flooded with the hoarded water. Water Witches reincarnated dad somehow drowns in the flooding which occurs. This book is basically an inside look at how the elites and the deep state conspire to hoard all the land and resources from the people, by exploiting crony capitalism. Small businesses and the common man never stand a chance against the FANG conspiracy , which movies like Waterworld and Dune had foreshadowed (decades in advance). Besides the born elite and the indoctrinated deep state, the psychic con artist mystic water witch lady represents the politician. The politician is the false hope of the people, who stumbles upon a great con, but accidentally leads her people into great fortune, partly due to her tenacity and ambition.