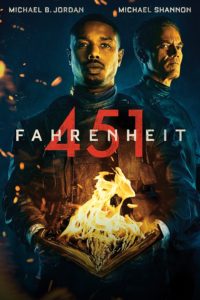 A lot of critics really didn't care for this updated version of Ray Bradberry's masterpiece. They felt it didn't stick close enough to the original material. On the other hand,  I thought this updated take on the suppression of knowledge by an advance technological fascist state to be very timely. Michael Shannon's character, the lead book burner, knows a bunch of Shakespeare. So why does he want to burn all the copies? I find this very intriguing.  It has to do with controlling the masses, and keeping the population dumbed down. It has to do with not questioning anything…
Of course, the idea of street bums dying to protect great pieces of literature is somewhat laughable, since the homeless have seemed to care more about rioting against liquor stores in recent years. But lets get past that.
On the internet it has become harder and harder to get information, especially for free. Try and get sheet music for any song to print up and you cannot find it anymore. Just a few years ago you could. Technological information is becoming scarce. Meanwhile libraries have not always that great an inventory anymore, from my experience, unless you count rich Asian areas like Cupertino. People are becoming less well rounded. As a result , all the inventions we get are along the same lines. For instance just a cell phone with a bigger screen, or just a faster wireless connection. Meanwhile, stuff like blockchain and Bitcoin has gone nowhere lately, since the banking and investment community got involved. Society basically is stagnating , much in the same way that this film illustrates. Thus, this film is very timely.
Some of the updates which have been made to the story include a super virus the rebel book savers have created in order to insert the encyclopedia of all books into nature, via a bird virus. Michael B. Jordan, from Black Panther and Creed, plays the conflicted book-burner worker. Shannon plays his boss and father figure. There is genuine feeling of them as comrades torn apart by time and circumstance.
So basically the filmmakers decided that since Francois Truffaut already made a faithful movie of the book in 1969, this new adaptation should focus on how the novel came true.   The movie shows how we have become an angry mob happy to destroy art in the name of political correctness.  We pat ourselves on the back for not reading while the world burns. The movie manages to follow the basic plot of the book while portraying this message.  It also manages to be action-packed with great special effects.  The decision not to follow every part of the book slavishly allows for greater suspense and the ending is a surprise of sorts.
So no, this is not your father's (or grandfather's) "Fahrenheit 451" but it is a very entertaining and relevant film that deserves to be seen and discussed.  Catch it on HBO, Blu-ray, and DVD.