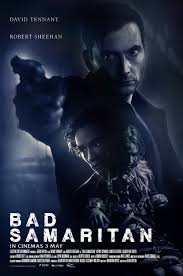 A little thriller called "Bad Samaritan" slipped into cinemas eight days ago, and it looks like it's going to close just as quietly. That's a shame because this is a well-crafted thriller that really does thrill.
It's about an Irish valet with a hot girlfriend and a nice family who, along with his friend and fellow valet, runs a scam job on the mean and rich by robbing petty things from their homes while their clients are out having a good time. It seems like a great scheme because no one gets hurt, the targets "deserve" it, and only petty things are stolen that these rich jerks don't need. All goes well until one night, invading mean snob's house, our hero finds a woman bound and gagged and, if that wasn't bad enough, a look at other rooms in the house indicate that this man (played by David Tennant of "Doctor Who" and "Jessica Jones" fame) is almost certainly a serial killer. What should our "bad Samaritan" do?
This is a good thriller because screenwriter Brandon Boyce ("Apt Pupil") and director Dean Devlin ("Geostorm") are far less interested in gore and jump scares than they are in surprising the audience with unexpected twists and suspense. The film refuses to use a predicable "Don't Breathe" scenario and instead gives us a surprising cat-and-mouse battle of wits. By the end of the film, we feel like we've been through a journey at least worthy of a James Patterson novel and film.
The acting is pretty good down the line in the film, with Tennant being the standout as a psycho who enjoys messing with people's heads as much as killing them. In that sense, "Bad Samaritan" is a welcome revival of the 1990's serial killer thriller . It's not going to be in theaters long, so if you like fun thrillers with smart characters, don't miss "Bad Samaritan."