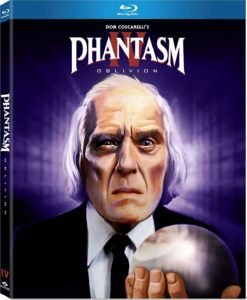 If you are a hardcore fan of the "Phantasm" series but were unable to pick up the 5-film Blu-ray box set when it was briefly available, good news! "Phantasm 3" and "Phantasm 4: Oblivion" have finally been released individually on Blu-ray.  You can now thrill to the saga of Mike (A. Michael Baldwin), brother Jody (Bill Thornbury), Reggie (the great Reggie Bannister) and of course the Tall Man (the late Angus Scrimm) all in the privacy of your own home in high definition.  How are these two films and their transfers?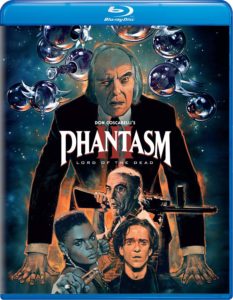 Part 3 starts where the underrated "Phantasm II" left off, with the love interest from that one being quickly dispatched with and Mike now being a captive of The Tall Man.  This leaves Reggie all by his lonesome hunting the Tall Man, attempting to rid the world of his evil.  He is eventually joined by a tough little boy (Kevin Connors) and a tough black lady sidekick/love interest named  Rocky (played by Gloria Lynne Henry).  Will this unconventional yet badass group succeed?  Tune in to find out!
"Phantasm 3" is one of the greatest direct-to-video movies ever made.  It is scary, funny, sexy, and totally off-the-wall.  Writer-director Don Coscarelli takes a $2 million budget and makes it seem like $30 million.  The cast is clearly having a ball, which is appropriate since the Ball is back (again!).  This Blu-ray transfer is very well-done, too, with good use of detail and excellent picture and sound.  It comes with an audio commentary and behind-the-scenes footage.
Since "Phantasm 3" was supposed to play in theatres but didn't, "Phantasm IV: Oblivion" was made on a much lower budget of about $400,000.  So you'd think it wouldn't be any good, right?  You'd be wrong!  Part 4 finds our titular characters Reggie and Mike (minus Connors and Henry) still battling The Tall Man.    In the process of dodging  his killer spheres and trying not to fall prey to his mind games, Reggie  (and a mostly offscreen Mike) discover the Tall Man's true origin.  Using previously unused footage from Part 1, director Coscarelli is able to show us sides of the characters that we've never seen before.  Despite the low-budget, the film seems epic and impressive.  Once again, the Blu-ray transfer is great and another audio commentary and behind the scenes documentary is included.
So if you love the "Phantasm" series but don't own the Blu-ray box set, you should run out and buy the "Phantasm 3" and "Phantasm 4" Blu-rays, which are available new for about $15 new.  Angus Scrimm may be dead but the "Phantasm" series will never die!